AC Maintenance Plan in Dayton & Germantown, OH
Your air conditioner runs every day to provide you with comfort during daylight as well as at night. Over time, you might notice degrade in performance and higher utility bills with regular usage. This usually happens due to dust accumulation as well as moisture. To ensure your AC is up to speed, you need regular maintenance from Kettering Heating & Air. Our highly-qualified team can make your AC function better and improve its lifespan.
Our AC maintenance plans are available at attractive deals that will keep your air conditioner running smoothly & efficiently at reasonable prices. To enjoy special discounts on regular maintenance plans, call us NOW at 937-717-3335 or click here to make an appointment!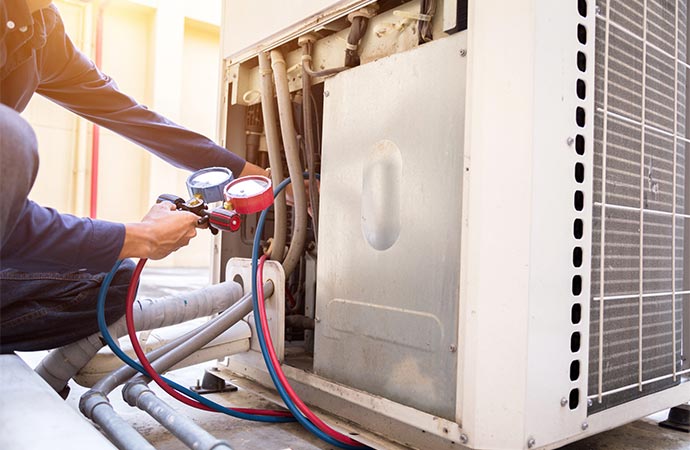 How an AC Maintenance Plan Helps You
With regular inspections from Kettering Heating & Air, your AC will have a much lower chance of breaking. Thus, you and your family can enjoy an uninterrupted cooling experience throughout the year. Our certified team will orderly tune air conditioner components, duct systems, heat sinks, and more to fix small problems before they can become major issues. Homeowners & business owners across Laura, Fairborn, Dayton, Germantown, and other nearby areas in Ohio can significantly benefit from our AC maintenance plans at a great value.
Other benefits of our AC maintenance plan include:
Regular maintenance & tune-up
Interruption-free air conditioning
Yearlong smooth performance
Lower operating cost
Extended lifespan
Remarkable discounts
Let Us Improve the Health of Your Air Conditioner
Proper operation of your air conditioner is important to maintain an optimal indoor temperature. To make sure your AC is working in top condition, our HVAC specialists offer tune-up, maintenance, & repair services. With an AC maintenance plan, we will make sure your air conditioner is performing at its best. Additional AC services we offer include:
We also offer specialized services for air conditioner upgrades that include:
For planned AC maintenance services at an exceptional price, call Kettering Heating & Air at 937-717-3335!