Smart AC Thermostat Installation across Dayton, OH
As the world continues to embrace technology and innovation, our homes and offices are becoming smarter and more efficient. Among the many advancements in automation, the smart AC thermostat installation stands out as a simple yet impactful way to enhance comfort, save energy, and lower utility bills.
A smart AC thermostat is an automated device that is often activated and run via a Wi-Fi system. This technology automatically regulates the heating and cooling temperatures in your property, ensuring the maximum possible efficiency of your air conditioning system. At Kettering Heating & Air, the HVAC specialists are qualified to provide you with a wide range of AC services. Our team has been serving property owners in Dayton, Kettering, Oakwood, Troy, Vandalia, and other nearby cities across Ohio. To learn more about our service, call our services representative at 937-717-3335 or book an appointment today.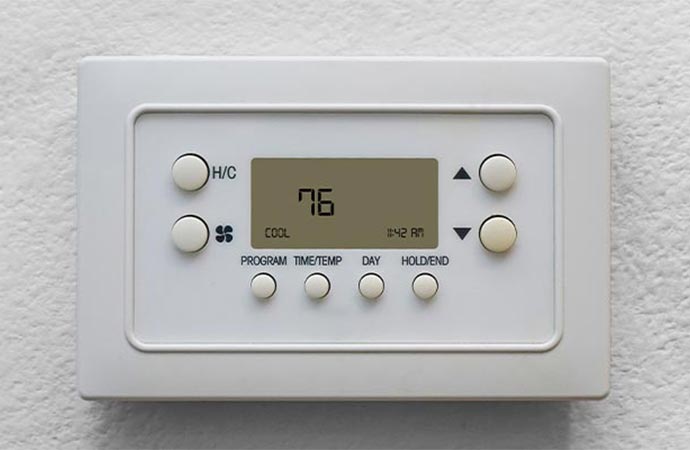 The Power of Smart AC Thermostats
Smart AC thermostats are equipped with advanced features and connectivity options, allowing users to regulate their cooling systems more intelligently and conveniently. Unlike conventional thermostats that require manual adjustments, smart AC thermostats can be controlled remotely through smartphone applications or voice-activated assistants like Amazon Alexa or Google Assistant. This flexibility enables homeowners to manage their AC units even when they are away from home, ensuring maximum comfort upon arrival and substantial energy savings.
Get A Smart AC Thermostat Now!
If you are looking for controls & thermostats to maintain your air conditioning system, try the smart AC thermostat from Kettering Heating & Air. Investing in a smart AC thermostat installation is a step towards modernizing your home and enhancing your living experience. With remote access, energy savings, intelligent learning capabilities, and seamless integration with your smart home, you'll enjoy a new level of comfort and efficiency while reducing your environmental impact.
Kettering Heating & Air is a part of Choice Comfort Services company. Learn the MyChoiceComfort Plan that can benefit you in the long run. Have more inquiries? feel free to call us at 937-717-3335.