Ductwork Repair Services in Dayton, OH
A duct system that is not working properly can make your home or office very uncomfortable in a big hurry. Fortunately, the ventilation experts from Kettering Heating & Air have the perfect antidote for customers in Kettering, Oakwood, Miamisburg, and other Ohio cities that we serve: superior ductwork repair services. For years, the craftsmen from Kettering have found ways to keep ducts flowing properly for customers throughout the Miami Valley of Ohio.
We repair damaged ducts that show signs of inefficient airflow, subpar air quality, and higher energy usage. One visit by the proven professionals from Kettering can solve all of those issues. Why is that important? The EPA estimates that between 20-30% of the air that moves through a typical duct system is lost due to leaks, holes, and poorly connected ducts.
With just minimal repairs, chances are good that you can improve your HVAC system's efficiency by at least 20%, and probably more. To final out more, call Kettering Heating & Air at 937-717-3335 for more information.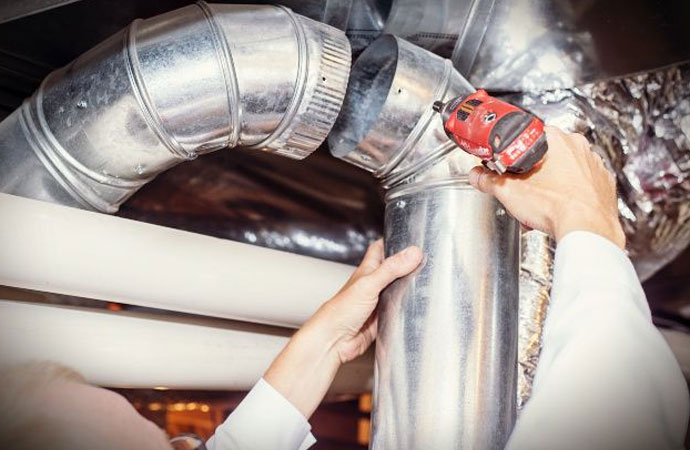 Ductwork Repairs Offered by Kettering Heating & Air in Kettering, Dayton, Oakwood, & Vandalia
Kettering Heating & Air has been serving the Kettering-Oakwood area and other cities in Ohio for more than 25 years. Our technicians are highly qualified, well-trained, and fully certified to perform top-notch ductwork repair, as well as other duct-related services for commercial and residential customers. Those services include:
Duct Sealing
Duct Replacement
Duct Cleaning
Duct Repair
Trust Kettering Heating & Air for Ductwork Services in Dayton, Kettering, & Miamisburg
When you choose Kettering Heating & Air, you are choosing a company with an A+ rating from the BBB, the highest industry standard, and more than 25 years of industry experience. Our technicians are NATE-certified and we offer a 24-hour emergency response service to our customers throughout the Greater Dayton, OH area.
For any type of ductwork services for your residential or business property within our service area, do not hesitate to contact Kettering Heating & Air online or give us a call at 937-717-3335 for more information or to make an appointment in Brookville, Miamisburg, Pleasant Hill, Dayton, and other places in Kettering-Oakwood, OH.
100% satisfaction guaranteed – We solve problems most HVAC specialists cannot
24 hours service including evenings and weekends
Fully stocked service and maintenance vehicles
Expert maintenance, installation, and repair
More than 25 years of stellar customer service
Residential & commercial A/C sales and service
Home efficiency testing and solutions
Promotional financing facilities available