AC Repair Services in Dayton, OH
Kettering Heating & Air is the most reliable service provider for AC system repair in the Kettering and Oakwood, OH area regardless of the type of problem. Our knowledgeable and experienced technicians can repair your AC system and bring it back to prime condition in no time. We also handle AC installation and AC tune-up services.
Our technicians will diagnose and repair the problem you're having and based on the diagnosis, will recommend the required repairing services or suggest installing a completely new system based on your need & budget. The HVAC professionals at Kettering Heating & Air have been serving the customers throughout the entire Kettering-Oakwood, OH area for over two and a half decades now. We offer a wide array of AC services that include AC installation and tune-up & maintenance.
Signs that You Need an AC Repair by Kettering
Our trained technicians use special diagnostic tools and techniques to inspect your system before suggesting a repair or a new installation. Once a thorough diagnosis is made, we give you the upfront pricing and obtain your approval before beginning any repair work. These signs will let you know if a repair service is in need:
Loud noise
Weird smell
No cool air
A puddle near your system
Poor airflow
Increased utility cost
Too-humid rooms
Inaccurate thermostat reading
Other unusual issues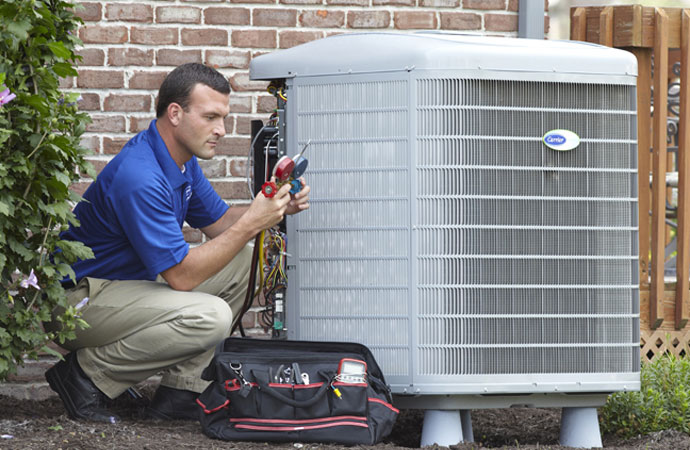 Benefits of AC Tune-ups in Kettering & Oakwood, Ohio
Here's a quick rundown of what happens during an A/C tune-up to show you why it's important:
We check your thermostat and system controls to ensure everything turns off and comes back on at appropriate points, and will hold a set temperature. This is necessary to make sure your HVAC system will run as efficiently as possible so your heating and cooling costs don't skyrocket.
We inspect the electrical components and repair them if necessary. We'll check that there are no loose connections and make sure that the voltage and current are what they should be.
We inspect and lubricate moving parts, including the motors, fans, and compressors. These are all parts that see a lot of friction when functioning, so we make sure that they are all in good working order and properly lubricated so they'll keep working well.
We clean your condenser and evaporator coils to make sure they are clean.
We inspect the condensate drain to be sure there isn't a blockage or a blockage in the making. Since a backed-up condensate drain can leak, cause corrosion, and damage your HVAC system, it's important to make sure it's clear and cleaned out.
We check and adjust refrigerant levels. Having the right levels helps to keep your A/C system working optimally, so we'll make sure you've got the right amount for the coming months, and look for leaks if your levels are low.
Trust Kettering Heating & Air to Repair Your AC System in Dayton, Vandalia, Kettering, & Oakwood, OH
Our team is certified to handle all heating and AC needs, including heat pumps, boilers, AC units, package units, split systems, and air handlers. We offer repair services, maintenance, and 24/7 emergency services on all furnace & AC brands such as Carrier Factory, Payne, Aprilaire, and Honeywell, for both residential & commercial customers. For more than 25 years, Kettering Heating & Air has set the industry standard for HVAC products and services for both residential & commercial customers in Ludlow Falls, New Lebanon, Huber Heights, Pleasant Hill, Trip City, and throughout the entire Kettering-Oakwood, Ohio area. Contact us online or give us a call today at 937-717-3335.