Heating System Installation Services in Dayton, OH
An efficient heating system is essential if you want to stay comfortable during the colder months of the year. Heating system installations are not simple, but they don't have to be difficult. There is no one-size-fits-all solution for every home's heating needs, so you should get the help of our NATE-certified installation experts. Kettering Heating & Air is respected for providing the best heating system installation services in the Kettering-Oakwood, OH area.
Kettering Heating & Air provides exceptional heating system installation services in Kettering, Oakwood, Vandalia, and other Ohio cities within our service area. We can also help you figure out whether it would be more cost-effective to repair your existing heating system or purchase a new one.
Heating System Installation Process by Kettering Heating & Air in Oakwood, OH
When you need a new heating system, you need to make sure that you're finding the perfect one for your home. Our local teams are heating system experts, so you can be certain that you'll make the best decisions for the heating needs of your home. We'll come to your home and handle the heating system installation from start to finish, including the installation of any ductwork your system needs.
First, we'll evaluate your needs, preferences, budget, and unique qualities of your home. Then, we'll suggest the heating system that we know from experience will work best for you and your home. Finally, we'll install the system according to manufacturer specifications and ensure that your ductwork has the capacity to provide the heat produced by your unit.
With Kettering Heating & Air, you can be certain that every aspect of your heating system installation will be handled by experienced, friendly, and dependable professional experts.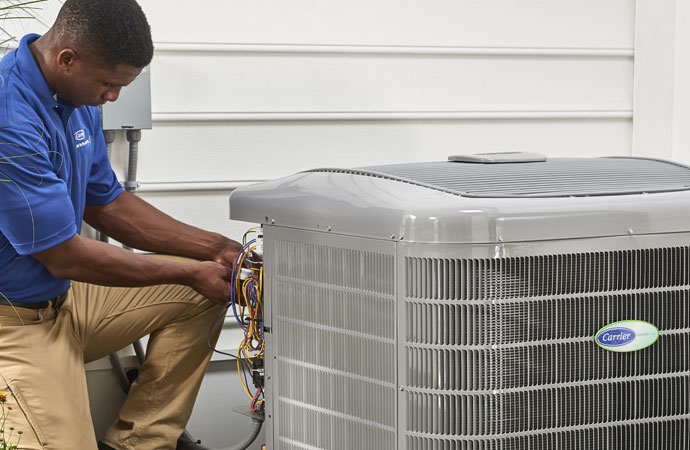 Install or Repair Your Heating System with Kettering Heating & Air in Oakwood & Dayton
Kettering Heating & Air is a top-notch heating services provider in Oakwood, Kettering, & Vandalia, Ohio. We have a wide range of products and services that will undoubtedly fit your requirements and budget. We offer:
Furnace installation and repair
Heat pumps
Heating system repairs
Heating system maintenance
When you choose Kettering Heating & Air, you are choosing a company with an A+ rating from the BBB, the highest industry standard, and more than 25 years of industry experience. Our technicians are NATE-certified and we offer 24-hour emergency response services.
Trust Kettering for Heating System Installation in Vandalia, Dayton, & Farmersville, OH
For any type of heating system services for your residential or business property within our service area, do not hesitate to contact Kettering Heating & Air. Give us a call at 937-717-3335 for more information or click here to make an appointment in Farmersville, Phillipsburg, Vandalia, Brookville, Casstown, and other cities within our Ohio service area.
100% satisfaction guaranteed – We solve problems most HVAC specialists cannot
24 hours service including evenings and weekends
Fully stocked service and maintenance vehicles
Expert maintenance, installation, and repair
More than 25 years of stellar customer service
Residential & commercial A/C sales and service
Home efficiency testing and solutions
Promotional financing facilities available