AC Installation Services in Dayton, OH
Kettering Heating & Air is the most trusted provider for AC Installation Services in Kettering and Oakwood, OH. Be it an upgrading from an outdated AC system in your current location or building from scratch in a new location, our cooling professionals have years of experience, training, and dedication to complete the job to your lasting satisfaction.
Get a new system with the perfect SEER rating to meet your needs and your budget. Our crews install a wide array of units and sizes from industry-leading brands such as Carrier, Payne, Aprilaire, and Honeywell. Call us today to schedule your estimate for a replacement system at 937-717-3335 or complete our contact form online. We also provide AC repair and AC tune-up and maintenance services.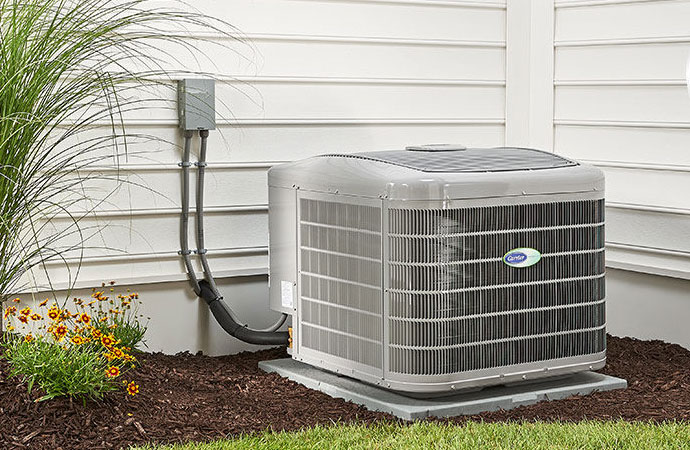 Benefits of a Professionally Installed AC System in Kettering & Oakwood
Here are a few perks to having a certified HVAC professional install and maintain your new AC system:
No Manual Labor for the Homeowner: Hiring a professional eliminates the need for you to do anything other than sign off on the work and pay the bill.
No Legwork Required: In addition to the physical aspects of installing a new AC unit, many homeowners hire a professional so that they don't have to worry about the paperwork aspect. Contractors and HVAC professionals can obtain the proper permits for you, making the job smoother concerning timelines and getting things done quickly.
Professional Upkeep: With most new installs, HVAC pros offer maintenance plans for these systems. Also, many installation packages include a specific maintenance plan to ensure your unit's longevity and safety.
AC Installations in Kettering, Oakwood, & Dayton by Kettering Heating & Air
Whenever it comes to long-term investment in products that will not be replaced anytime soon, it's best to get a proper analysis of the requirement and budget, before making a purchase. The analysts of Kettering Heating & Air will do the required analysis to determine the right size and type of unit, as well as the best SEER rating, for your heating and cooling needs.
We do a thorough diagnostic of your current system, your future needs, and the energy requirements surrounding your home. After that, we create an HVAC system to meet those needs.
Trust Kettering Heating & Air to Install Your Ideal AC System in Dayton, Ohio
For more than 25 years, Kettering Heating & Air has set the industry standard for HVAC products and services for both residential & commercial customers in Beavercreek, Casstown, Kettering, Laura, Vandalia, and other communities throughout the Kettering-Oakwood, OH area. Our crews install systems from elite brands such as Carrier, Payne, Aprilaire, and Honeywell. When you need our help with anything from AC repair, AC tune-up and maintenance services, AC system installation, or heating systems services, be sure to contact us online or give us a call at 937-717-3335.