Duct Installation Service in Dayton, Trotwood & Kettering, OH
Large volumes of air are moved through your home's ductwork from your air handler to the vents in every room. So, if something happens to the ductwork, you will find that your heating and cooling systems won't be efficient as they should be, and it needs to be replaced with a new duct.
Kettering Heating & Air has been serving duct installation services for more than 25 years. Our experts are completely licensed, extremely skilled, and trained to install new ducts to the highest standards. So call us anytime at 937-717-3335 if you need duct installation service.
Signs You Need New Duct Installation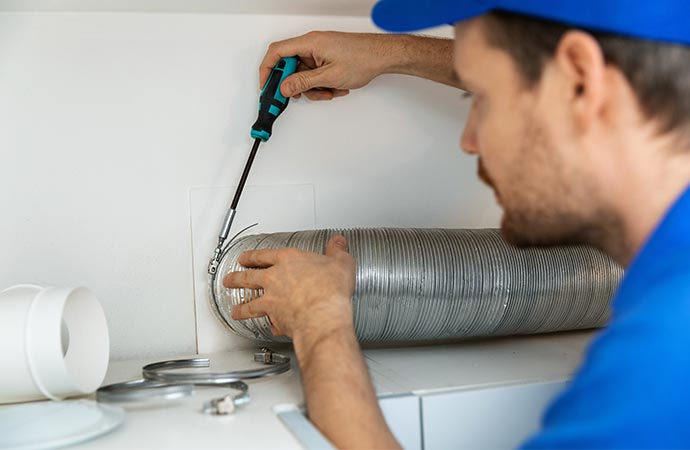 Poor airflow: When you will find that the airflow of your place is not suitable enough that time you have to think about the ductwork issue.
Dusty home: This can indicate that your ductwork is unclean and dispersing pollutants throughout your house.
Noise: Due to accumulated air pressure, ductwork that is not cooling or heating effectively may rumble and produce strange noises.
Musty atmosphere: Mold can flourish inside your air ducts if there is enough moisture and humidity. It makes your home's atmosphere musty and odors.
Allergy: For those who have respiratory problems, their problem may increase because of duct problems.
Energy Bill: If your duct is old or damaged, that time you will find that your energy bill is increasing and temperature imbalance at your home. Hence you need to think about a new duct installation.
Contact Kettering Heating & Air for New Duct Installation
Whenever you need new duct installation service in Dayton, Troy, Kettering, Oakwood, and other Ohio cities within our service area, contact Kettering Heating & Air right away. We also provide duct cleaning, duct replacement, duct sealing, ductwork repair, indoor air quality, etc.
For getting new duct installation service or any other services from us, simply call at 937-717-3335, or for more information click here.