Expert Ductless Heat Pump Installation and Repair Service in Dayton, OH
Ductless heat pumps are all about energy savings and efficiency. They're highly efficient for cooling and warming spaces.
A heat pump is an air conditioner with a reversing valve and two bypass valves that allow the unit to provide cooled air and heat. While not for all homes or climates, heat pumps can reduce heating and cooling costs.
The unit works by forcing hot air away from areas you wish to cool and into areas you want to warm. But, when a heat pump stops working, it can leave you rather uncomfortable in the cold or heat.
Just like traditional HVAC systems, you are likely to encounter an issue at some time with your ductless heat pump, which relies on an exterior compressor/condenser and an indoor air-handling unit. Kettering Heating & Air is your ductless heat pump repair specialist. Our technicians can quickly diagnose and repair your heat pump!
Call 937-717-3335 or contact us online.
Why is My Ductless Heat Pump Not Working?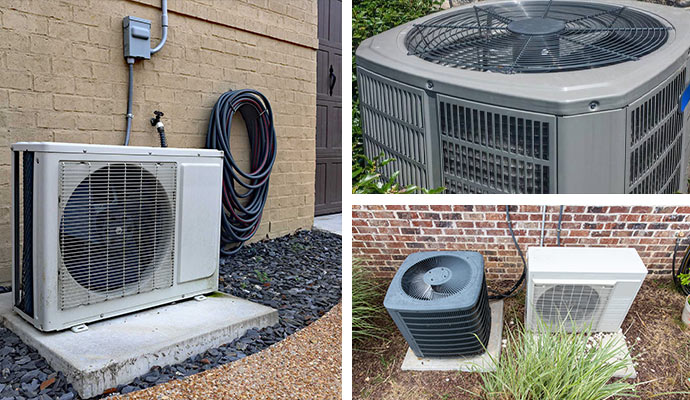 Home Comfort is our mission, and Heat Pump Installation & Repairs are our expertise. Our professional assess the thermodynamics of your home to guide you toward the proper cooling solutions.
Whether you need a rapid repair on a hot day, consistent heat pump maintenance for long-term comfort and dependability, or a new installation, we make your comfort our number one priority.
There are many reasons a heat pump could fail. The most common are:
Dirty Air Filter – A ductless unit still needs routine maintenance. Change the filter regularly to keep it operating properly.
Fuse or Breaker Issue – A burned out fuse or tripped circuit breaker will stop a ductless unit cold, or loose wiring can cause the system to fail.
Ice Buildup – Precipitation can freeze on the coils, causing the unit to no longer cool the room.
Why Call A Trained Technician for Ductless Heat Pump Repair?
Diagnosing and repairing a ductless heat pump requires expertise. There are many reasons a ductless unit could stop heating or cooling, and a technician can quickly diagnose the issue. By hiring a professional, you get:
Faster Repairs – Your unit will be repaired quickly by trained technicians with the right tools, parts and expertise to get the job done.
Warranty – The manufacturer may void your warranty if you do not hire a professional for repairs.
Efficiency Evaluation – A professional can diagnose the issue, fix the problem, and return the unit to maximum efficiency.
Kettering Heating & Air is here when you need to service a residential or commercial property. In addition to ductless heat pump installation and repairs, we also handle AC installation, AC repair, duct cleaning, duct replacement, plumbing and more!
We offer fast and efficient ductless heat pump repair services. We can handle all models, and are available for same-day service and ductless heat pump repairs for residents in Brookville, Casstown, Clayton, Conover, Covington, Dayton, Englewood, Fairborn and throughout Ohio.
Call 937-717-3335 or submit an online form.